PJ High Frequency Surge Testers
2 PIECE PORTABLES


MODEL
NUMBER*
APPROX.
WEIGHT
DIMENSIONS
L" x W" x H"
POWER INPUT
(Volt Amps)
PEAK VOLTAGE OUTPUT
PEAK CURRENT OUTPUT
H6
42 lbs
22" x 19" x 8.0"
420 VA
6,000 V
185 amps
H10
44 lbs
22" x 19" x 8.0"
720 VA
10,000 V
330 amps
H12
46 lbs
22" x 19" x 8.0"
840 VA
12,000 V
380 amps
H15
48 lbs
22" x 19" x 8.0"
1080 VA
15,000 V
500 amps
*Please add the following designation, "-2M", after the model number for PJ Surge Testers designed to operate from 220-240 operating line voltage. For example, the Model H12 would be identified as Model H12-2M.
For the complete list of standard features on all Models, please link to our Price List page.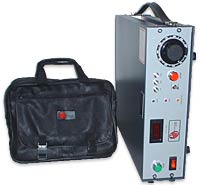 "H" Model:
The H models are "2 piece" versions of the Signature ("S") Models with PJ's exclusive/unique High Frequency Technology capable of testing the integrity of any turn to turn insulation, including low inductance windings. These compact two piece portable digital surge testers come complete with a Rigol DSE series, fully digital storage color oscilloscope, 10' long test cables and a soft carrying case with a shoulder strap. The carrying case is used to store the oscilloscope, manuals, printer and accessories when testing in the field. (Picture may not show actual oscilloscope.)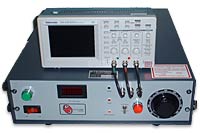 Click here for a PDF printable version of this page.

Please note: Please note that language translations may not tranlsate Technical words correctly. We apologize for this inconvenience and if your particular Country/language is not listed or not available for translation.